GRADE TWO AND GRADE THREE GYNO
Definition of Grade 2/3 gynecomastia
There are a variety of classification schemes published, and one does not need to get "hung up" on the grade of gyno necessarily.  Remember, it is a continuum of changes between gland tissue, fat, location of tissue, excess skin, nipple position, that are used to define gyno.
Nevertheless, I am always thinking when I evaluate patients about the surgical approach to their treatment.  Surgically speaking, Grade 2/3 will require a similar set up and treatment, so I like to combine them together on my site.
The tissue in grade 2 will extend to the chest wall (ie, over the pec area only) and in grade III it will cover both the chest wall and extend laterally and typically upward towards the axilla.
PICTURE BELOW  OF GRADE 2  PATIENTS: NOTE THE BREAST COVERS THE PEC, BUT THE LATERAL ASPECT IS CLEAR OF TISSUE OR FAT.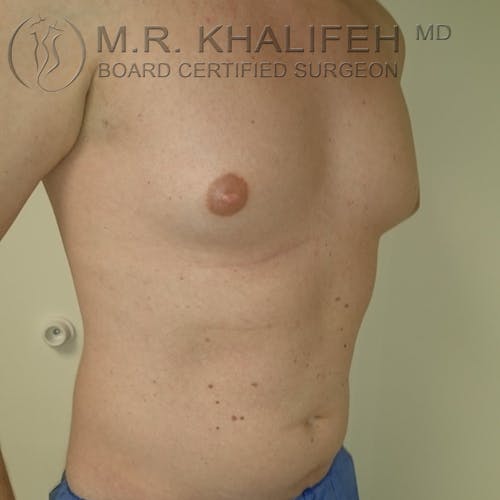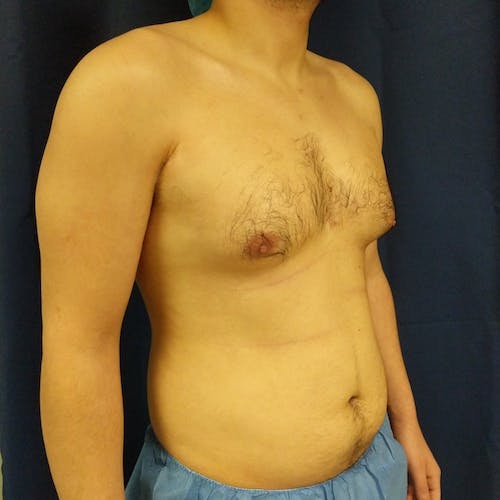 PICTURES BELOW ARE OF GRADE 3 GYNECOMASTIA, WITH TISSUE (MAINLY FAT) REQUIRING LIPOSCULPTING ON THE EDGES AND AXILLA 
MY SURGICAL APPROACH FOR GRADE 2/3
Anesthesia will be local anesthesia with oral sedation. It is a comfortable and safe approach to these cases
Incision placement is inferior areolar. This is because for these grades there is not much, if any , droopiness of the skin. this is the most hidden incision once it heals.
liposuction will be the initial step.  in Grade 2 this is used mainly to separate the gland from the muscle, as well as to thin out any fat component from the gland to shrink it and make it more possible to work thru an even smaller incision.
liposuction in grade 3 will extend into the axillary fat pocket (this will appear to bulge out greatly once the gland is removed if it is not addressed- common mistake by surgeons that don't do a lot of gyno).  It will also be used to define the lateral chest and bring out a sharp chest border
direct glandular excision will follow with complete removal of any glandular materials.
SKIN REDRAPING WITH GRADE 2/3
By defining those cases as grade 2/3 , we are already assessing the skin quality as adequate.  Therefore, no direct excision is typically required .  On occasion, I will use a laser to help with further tightening in cases of very thin dermis or stretchmarks.  In aging patients, the skin may not retract as much as my younger patients, but overall, we expect excellent skin outcomes with these cases
CONCLUSION:
Grade 2/3 together account for about 65% of my cases, making that group the most common presentation.  Excellent results can be achieved as the skin quality if favorable.